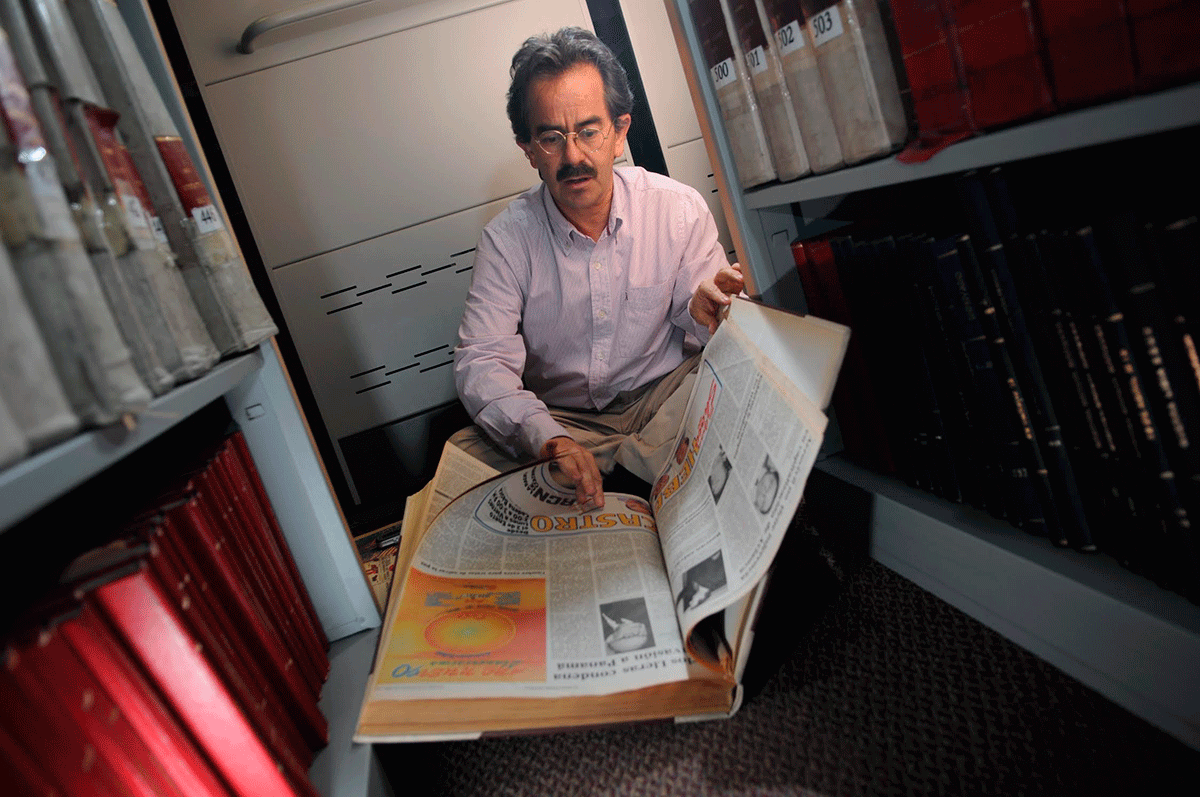 A few words to receive the Clemente Manuel Zabala recognition award
[vc_row][vc_column][vc_column_text]
Jorge Cardona Alzate:
The peace treaty has just been signed and I must say something about journalism: the recognition of the editor or urgency of this duty should be through the filter. Take heed that everything that I am able to manifest today regarding this duty, must be done through trust, it is only this way that we are able to achieve peace, so everything I say is susceptible to editing.
This may be done by the author, the editor in chief or any of you who can make the filter better.
Journalism is collective work that later belongs to those who interpret it. I had to do this with my father when he arrived home from work and asked us if we had read the paper. Our grandmother would roam around the house with a hand-held radio narrating the news, mostly the bad ones over the good ones. When someone would raise their tone on a political debate, our mother would leave her sewing room and remember how the machete-armed bandits of Pijao had chopped her family to pieces, keeping her from ever enjoying a childhood holiday.
Each friend held a family wound of about the same gravity or an even crueler one often narrated by parents or grandparents. Generation after generation, we grew up listening, but we ended up telling them to the children suffering worse stories and tragedies, children who have witnessed assassination, massacres, disappearances and kidnappings, children who have witnessed looting and car bombs. The summation of these macabre facts during those crazy times was my time as a judicial journalist.
With that scarce information, I had to narrate the news while respecting the victims, so much pain and anticipation against impunity. I think of those reports at this time and I pay tribute to them now. With them I learned to exalt their voices from the absence of truth.
Then, the missing arrived in procedural entanglement that did not beg for justice or innocence.
The Zabala, Pico or Sastoque in whom I also think about at this time, because from them I learned what it means to bear the weight of undeserved dishonesty.
I had a teacher named Luis de Castro, he passed away in 2009. He covered the news on April 9th, 1948 in Bogota when they murdered his graphic reporter who today, nobody remembers and was the person behind the Judicial News of El Espectador.
He was a detective to the many findings of Guillermo Cano in his fights against the scammers or the narcos. Everything I learned about this craft today and everything I can express about it, I learned while watching him, how he managed his section with a keen grammatical, syntactic eye, an expert in the art of filtering opinion. He had the sharpness of one who lived during the times of the red chronicles and the wit to make journalism flow like a lively party.
The same legacy of "whoever loses their cool is screwed" , which Garcia Marquez remembered about his days at El Espectador, Luis De Castro was also there bearing the weight of laughter.
With him, I understood that an editor´s mission was to actually try to fix life, whether it was within language, intention, friendship, and within authorship itself.
Relying on the guarantee that every means of communication can be made better and that every type of work created by humanity transcends and is built upon "righting the wrongs", brings certainty to this craft.
What is written or broadcasted is for the present audiences but whoever reads this in 100 years, should be able to understand with utmost clarity what happened during these times.
It is the premise that guarantees that memories can be created. Because now our country is signing for peace, among our many duties, it will be essential to build narratives and informative texts which are well-edited and relevant regarding these anticipated times.
To the upcoming generations or the ones discovered in the classrooms, have a greater responsibility: to guarantee that today's grandchildren don't have to tell their children such horror stories as the past generations had to.
Once again, I deeply thank you and renew my duty. It is only took this "brief cry from my soul", paraphrasing Emile Zola whose "Yo Acuso" in La Aurora paper, one 13th of January in Paris to become enough of an example in order to continue writing, doubting and editing.
[/vc_column_text][vc_column_text]Leer discurso en español.
Leer discurso en portugués.[/vc_column_text][/vc_column][/vc_row]