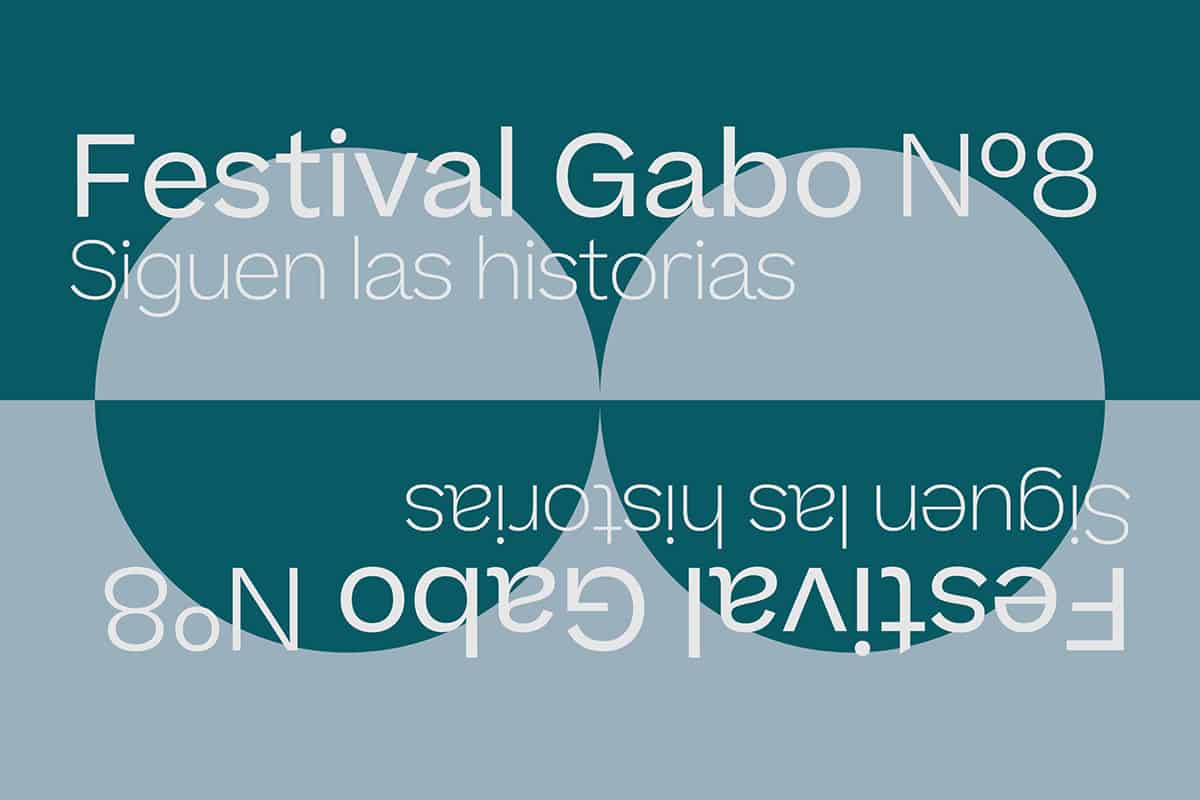 8th Edition of the Gabo Festival
The premier journalism and cultural festival will be held virtually from November 30 to December 11 at festivalgabo.com
This eighth edition will include a new class of activities, master classes, where attendees will be able to get a better feel for what participants experience in the Gabo Foundation workshops.
The guest list includes Benjamin Moser, the 2020 Pulitzer Prize winner in Biography; Italian philosopher Alessandro Baricco; Renée Kaplan, the head of digital editorial development at the Financial Times; writer Camila Sosa Villada; and researcher Zulma Cucunubá. 
The 8th Gabo Festival will include a tribute to Mercedes Raquel Barcha Pardo, the former president of the Gabo Foundation Board of Directors, who passed away in August 2020. 
The Gabo Festival—a grand celebration of stories, curiosity, and culture—will take place from November 30 to December 11 this year. This edition will be full of new reflections, debates, and deep analyses on how to conceive, comprehend, and narrate the world. 
The Gabo Foundation was founded in Cartagena by journalist, writer, and Nobel Prize in Literature Gabriel García Márquez and its activities span the whole of Ibero-America. This year, on its 25th anniversary, the 8th edition of the Gabo Festival focuses on training and inspiration in order to carry out vitally important, ethical, rigorous, and innovative journalism. This festival will harness technology to enable thousands of curious minds—journalists, journalism students, teachers, editors, and professionals from multiple disciplines—to access the lessons, tools, practices, and examples shared by leading experts, thinkers, and storytellers, free of charge.
This eighth edition will be a remarkable way to close a very peculiar and uncertain year that has led us to adapt and reinvent ourselves in order to carry on. It will be a celebration to remind us that stories don't stop either; despite it all, they continue to encourage and enable citizens to play a more active role and be better informed. This is possible only if the ethical and creative use of the power of storytelling and sharing is taught, and if training and support is provided to journalists.
The 8th Gabo Festival is made possible thanks to the Gabo Foundation's partnerships with Grupo SURA and Bancolombia—and their subsidiaries in Latin America—the Mayor's Office of Medellin, and Comfama.
Public talks
The public talks will explore and take a deeper dive into relevant topics such as the responsibility over our duties in order to equip a citizenry with the tools to face current challenges—an issue tirelessly advocated for by Nobel Prize winners Gabriel García Márquez and José Saramago. Saramago's partner Pilar del Río, president of the José Saramago Foundation, will converse with renowned Colombian novelist Juan Gabriel Vásquez. Another topic to be discussed is the social impact of our interactions with technology. This will be explored by Italian philosopher and author Alessandro Baricco in the company of Jean François Fogel, media consultant and President of the Gabo Foundation's Board of Directors, in Journalism in Search of the Truth? Additionally, a conversation about strengthening democracy through technology and the risks of disinformation will include Silvio Waisbord, professor at the George Washington University School of Media and Public Affairs; Catalina Botero, dean of the Faculty of Law at the Universidad de Los Andes (Colombia) and co-chair of the Content Advisory Board; and Jaime Abello Banfi, general director and co-founder of the Gabo Foundation.
The public talks will also provide a space to discuss opportunities to narrate other's realities—with all their nuances and complexities. Benjamin Moser, the 2020 Pulitzer Prize winner in Biography, and Ecuadorian long-form journalist Sabrina Duque will participate in the public talk Chronicling Other Worlds, where the two will discuss the process of investigating and building a clear portrait of a character. In addition, The New Yorker reporter Jon Lee Anderson will join photographer, documentary filmmaker, and writer Jordi Esteva to discuss the journey to find secret paradises and untold stories.
In addition, new points of view about the challenges in narrating migration and contributing to the prevention of xenophobia, racism, and discrimination will be reviewed in the talk Migration: Changing the Story, with Leonard Doyle—spokesperson for the International Organization for Migration (IOM)—and Eileen Truax, Mexican journalist specializing in politics, immigration, and social movements. A new look at drug issues will also take place in The B-side of Drug Stories, with Alejandra Rajal (Mexico), Alice de Souza (Brazil), Fabiola Torres (Peru), Elizabeth Otálvaro (Colombia), and Catalina Gil (Colombia).
Furthermore, discussions will be held about how diversity and LGBT issues are being addressed in journalism, art, and culture, in the talk Telling Your Own Story: Representing the LGBT Population in Latin American Journalism and Culture, with Camila Sosa Villada (Argentina), writer and winner of the Sor Juana Inés de la Cruz Award for her novel Las Malas; Maru Ludueña (Argentina), journalist and co-founder of Agencia Presentes; Mauricio Albarracín (Colombia), lawyer, philosopher, and deputy director of Dejusticia; and Guillermo Correa (Colombia), professor and researcher at the University of Antioquia.
The topic of strengthening relationships with audiences in digital environments and how this can contribute to media sustainability will also be addressed from a journalistic perspective during a talk with Renée Kaplan, head of digital editorial development at the Financial Times; Borja Echevarría, deputy director of El País; and Juan Camilo Maldonado, journalism manager at Mutante.
Moreover, the journalistic achievements and errors that occurred while covering the coronavirus—as well as the lessons learned, in order to be applied in future reporting —will be reviewed in Epidemiology for Journalists II: Lessons Learned when Covering the Coronavirus. This talk will include Zulma Cucunubá, researcher at the Imperial College School of Medicine's Center for the Analysis of Global Infections; Carlos Castillo-Salgado, professor in the Department of Epidemiology at the Johns Hopkins University Bloomberg School of Public Health, and Pablo Correa, editor of environmental, health, and science issues in El Espectador.  
Workshops and master classes
These activities will provide an ideal space for training on how to cover important social situations and phenomena, such as conflicts and human rights violations in Latin America, indigenous representation in journalism and the media, diversity and LGBT stories, new narratives on drugs, the investigation of organized disinformation, and applying lessons learned to the continued coverage of the coronavirus.
In addition, the 8th edition of Gabo Festival will address classic themes that unite journalists, such as long-form journalism, with Martín Caparrós; editing journalistic texts, with Leila Guerriero; the radio, with Yolanda Ruiz; the use of interviews for journalistic profiles, with Jon Lee Anderson; photo essays, with Maya Goded, and cultural, food, and technology journalism, with Jorge Carrión, Ignacio Medina, and Jordi Pérez Colomé, respectively, as well as the following trends within journalism: podcasts, data visualization, collaborative journalism, and documentary film.
Thanks to Comfama, this grand festival will include five virtual book clubs for different age groups—in which Matias and Agustín Godoy (Argentina), Joseph Zárate (Peru), and Xavi Ayén (Spain) will participate—a business meeting with Renata Cabrales (Colombia), journalist and master in digital journalism, and two workshops: one on long-form journalism with the writer Alfonso Buitrago and another on podcasts, with Laura Ubaté (Colombia), founder of the Café Podcastero.
Meet the guest speakers  
Each topic proposed by the 8th edition of the Gabo Festival will be addressed by leading experts, including writer and historian Benjamin Moser—winner of the 2020 Pulitzer Prize for Sontag: Her Life and Work, a definitive portrait of the American writer Susan Sontag—and philosopher and writer Alessandro Baricco, author of Los bárbaros, an authentic essay on the relationship between writing and the digital cultural revolution, as well as The Game, a book that delves into the impact of the digital revolution on humanist thought and culture in general. 
The world-class guest list also includes María Jesús Espinosa de los Monteros (Spain), director of Podium Podcast and Podium Studios at PRISA Radio; María Eugenia Ludueña (Argentina), co-founder and co-director of Agencia Presentes; Jorge Carrión (Spain), cultural critic at The New York Times and co-director of the Master in Literary Creation at UPF-BSM; Leila Guerriero (Argentina), editor and long-form journalist; Martín Caparrós (Argentina), writer and long-form journalist; Carolina Robino (Chile), director of BBC Mundo; Patrícia Campos Mello (Brazil), reporter and columnist at Folha de S. Paulo; María Teresa Ronderos (Colombia), teacher and director of the Latin American Center for Investigative Journalism (CLIP, as per its Spanish acronym); Dani Yako (Argentina), photojournalist and editor; Ignacio Medina (Spain), food critic for El País; Alberto Cairo (Spain), designer and professor of visual journalism; Yolanda Ruiz (Colombia), news director of RCN Radio; Germán Rey (Colombia), professor and researcher; Pilar del Río (Portugal), president of the José Saramago Foundation; Renée Kaplan (United Kingdom), head of digital editorial development at the Financial Times; Carlos Dada (El Salvador), founder of El Faro; Jon Lee Anderson (United States), reporter for The New Yorker; writer Juan Gabriel Vásquez (Colombia); and Diego Enrique Osorno (Mexico), journalist and founder of Detective.
Also present will be Alejandra Xanic (Mexico), 2013 Pulitzer Prize winner in the Investigative Journalism category; Gabriel García Márquez's sons Rodrigo García Barcha (Mexico), filmmaker, and Gonzalo García Barcha (Mexico), typographer and illustrator; media consultant Jean-François Fogel (France); Leonard Doyle (Switzerland), spokesperson for the International Organization for Migration; Jason King (United States), professor at New York University and founding member of the Clive Davis Institute of Recorded Music; Juan Camilo Maldonado Tovar (Colombia), director of Mutante; Alejandra Sánchez (Mexico) and José Luis Pardo Veira (Spain), co-founders of Dromómanos; writer, photographer, and documentary filmmaker Jordi Esteva (Spain); Catalina Botero-Marino (Colombia), dean of the Universidad de los Andes School of Law; Carlos Castillo-Salgado (Mexico), professor of Epidemiology at Johns Hopkins University; Borja Echevarría (Spain), vice president of the digital area of Univision News in Miami; writer and journalist Melba Escobar (Colombia); Zulma Cucunubá (Colombia), researcher and assistant professor at Imperial College London & Javeriana University; Rebeca Grynspan (Costa Rica), secretary-general of the Ibero-American General Secretariat; Silvio Waisbord (Argentina), director and professor of the George Washington University School of Media and Public Affairs; Pablo Linde (Spain), journalist at El País; Sandra Borda (Colombia), associate professor at the Universidad de los Andes; Gustavo Gorriti, director of IDL-Reporteros; Dione Patiño (Colombia), director of Esquina Radio in Medellin, Colombia; and Kátia Brasil (Brazil), executive editor of the Royal Amazon Agency, as well as many others who will share the best practices of the best trade in the world, the Gabo way: with style, ethics, and practice.  
The 8th edition of the Gabo Festival is made possible thanks to the support of Dejusticia, Google News Initiative, The Michael Jacobs Foundation for Travel Writing, the Ministry of Culture of Colombia, the Facebook Journalism Project, Institute on Heritage and Culture of Cartagena (IPCC, as per its Spanish acronym), and Open Society Foundations. 
We also extend special thanks to the Italian Embassy in Colombia, Agencia Presentes, Colombia Diversa, Tragaluz publishers, Universidad del Norte, Fiesta del Libro y la Cultura, Madrid Fusión, José Saramago Foundation, the International Organization for Migration (IOM) and its Migration Resource Allocation Committee (MIRAC), the Truth Commission, Universidad Autónoma de Barcelona, RTVC Sistema de Medios Públicos and its First Ibero-American Podcast Festival, Hay Festival Cartagena de Indias, Sentiido, the Santo Domingo Foundation, and the Foundation for Press Freedom (FLIP, as per its Spanish acronym).
Enjoy the programming
You can explore the program and register for the public talks, master classes, and workshops, as well as meet the guest speakers who will be part of the 8th edition of the Gabo Festival on the festivalgabo.com website. 
To stay up to date and find out the latest news firsthand, you can subscribe to the Gabo Festival newsletter. We also recommend following our Instagram, Facebook, and Twitter accounts, as well as the hashtag #FestivalGabo and #FollowTheStories. All event details will be available on these channels.